Owning a property with a fully accredited owners corporation means you can retain the benefits of owning a private building, whether an apartment complex or office, without the responsibilities and headaches of managing and maintaining a property. 
Subdividing a property is a common practice and requires a "body" to manage common ownership aspects of the property. On registration of a community title, an "owners corporation" is established. There are many body corporate management companies who operate nationwide, managing their buildings professionally and efficiently.
Typically, these properties have an owners corporation management which manages the caretaking, grounds maintenance and offers peace of mind on matters like management of insurance. Owners corporations are controlled by legislation that has undergone many revisions to adjust to the continually evolving world of property ownership.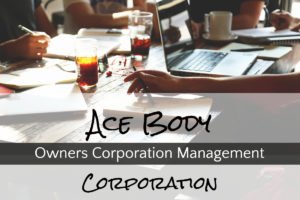 Owners corporations provide members with more affordable property with, where possible, reduced costs around property maintenance. There are different types of owners corporations, like apartment buildings, double-storey villa units, attached townhouses, or mixed-use developments. The owners corporation management takes control over a range of compliance, financial, insurance and essential services matters. These responsibilities are usually given to an appointed manager, a point of contact, who looks after the insurance, manages the caretaking and handles the various administrative processes.
Being a member of an owners corporation means you must adhere to certain guidelines to ensure that the buildings are well looked after and any superficial changes made are first approved, and then completed in collaboration with other members.
When you own a unit on a property with an owners corporation, you need to make sure that all building and liability risks are covered for the property since the walls, facilities and services are shared. You do not need to have a separate policy for building insurance if the owners corporation management provides you with a policy. This ownership is normally more economical than a member investing in their insurance and you are guaranteed satisfactory public liability insurance for the common property. 
In fact, holding public liability cover for the common property is important as many people have access to it and accidents often result in significant claims (including legal expenses). Members are still required to have insurance for their own benefit and also public liability cover for car spaces and visitors.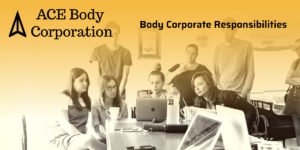 Body Corporate Responsibilities
So, what does an owners corporation need to do, and what can you expect from them?
The owners corporation is responsible for ensuring full reinstatement insurance.

The manager provides management processes and record keeping for the owners corporation.

They ensure owners' corporation-related legislative matters are being taken care of.

They resolve disputes and provide an objective approach to dealing with members' concerns or disputes.

The manager looks after the owners corporation administration and handles regular paperwork and requests 

They are responsible for issuing leases and licences where necessary.

They administer insurance and deals with brokers and directly with insurance companies.

They administer the maintenance of owners corporation facilities and essential services.

The manager schedules grounds maintenance.
Work with the Best
So, working with a qualified and reliable body corporate manager is a great way to ensure your property is well maintained and in good hands, so you can focus on business as usual. 
For a tenant, moving into a new property with established management brings peace of mind too. Ace Body Corporate Management currently manages over 65,000 units in Australia, and is responsible for the management of properties and assets to the value of $30 billion AUD. With so many reasons to protect yourself and your property, don't delay and make owners corporation management part of your property scheme today.